1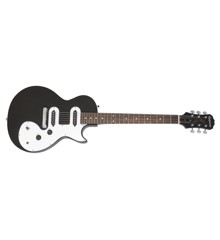 Product has been ordered from our manufacturer but we have not yet received an estimated arrival date.
You reached the end of the list
Go to top
Buy electric guitars and live the dream
Basically, there are only 5 options to live the dream properly as a man. Become a soldier, playboy, fireman, rich entrepreneur or rock star. The latter we can all relate to in one way or another. We have all dreamed of shouting over a tightly packed stadium with guitar hanging in one arm and a beer in the other. Electric guitars are real sound for real musicians. It is sharp, raw and loud, and it is in essence what music is about. It should kick something loose in the body of your audience, and is there a better way to do it than with a loud electric guitar? When you buy an electric guitar, you welcome a new lifestyle. It's entertaining, it's fun and it is a statement!
The nice people at Coolshop are rock stars in their own ways, so we are really obsessed with our electric guitars. That is why we have lowered prices, so you can start with music as fast and as cheap as possible. We present a lot of offers on electric guitars and we also have pack offers with amplifiers and other gear, so you get the collected experience for cheap. In our big selection you will find electric guitars for all. Both veterans and beginners.
Buy guitars starter pack
You need to hum before you can sing, and we can't all be Jimi Hendrix. That is why we have collected different packs that make it easier for you as a beginner to make sense of the whole guitar world. In these starter packs you will find amplifiers, cables, picks, stands and everything you need, when you move to a guitar universe. The packs are brilliant for both adults and children, and it is your safety for getting products home for cheap prices. You do not compromise on quality, when you buy packs. It is equipment, guitars and gear of high quality, so you can feel secure, when you start with yelling. Check out and buy all our packs with guitars and equipment here. Pssst: for parents. We also sell earplugs. You're welcome.
Acoustic or electric guitar?
If you like rock'n'roll with lots of noise and fast rhythm, the answer is simple. Electric guitar is the most important instrument, if you are rock'n'rolling, but it can also be used in other genres like blues, country and jazz. Electric guitar gives a more raw and metallic sound, where the acoustic guitar plays soft tones. You should decide which type of sound you want to master, and you should buy the guitar that goes hand in hand with that. Keep away from the classic Spanish guitar, if you want to show your inner metalhead, and keep away from the electric guitar, if you like soft tones near the bonfire. Our advice is that you start out with a steel-string guitar, since it works as an all-round guitar. It is easy to start with, and you get the best of both worlds. It is easy to hear mistakes on a steel-string guitar, so you can quickly correct those. It can be difficult to hear mistakes on an electric guitar that is connected to an amplifier, since the sound is significantly louder.
Remember the amplifier
When you say electric guitar, you say amplifier. Guitar amplifier is the last and ultimate element in your guitar setup. It is raw power that brings sound to all spaces, big and small. At Coolshop you will find a great selection of cheap guitar amplifiers on offer, but you can also choose to buy one of our packs that contain an electric guitar and an amplifier. This way you save more money, and you can be sure that the two products fit well together. We have taken care of that. Explore our big guitar world or embark on a journey with new and exciting instruments.