1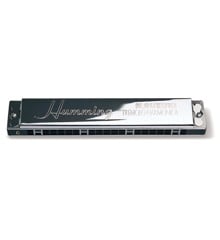 Incl. shipping
Few in stock
You reached the end of the list
Go to top
Wind instruments
Our selection of wind instruments offers something for all levels of music skills. Whether your band is getting their breakthrough soon, or whether you are already a blues legend, you have clicked correctly. With the known brands like Fender, Hohner and König & Meyer, we offer both instruments and accessories in a quality you deserve.
Where should you start?
Kazoo is a good starting instrument, since it is one of the technically easiest wind instruments to learn. If you are the type that cannot agree with yourself which colour is the coolest, they are sold in boxes with different colours.
This is also an advantage, if you are the frustrated type that easily throws things when they (and definitely not you) play badly.
Harmonica
If there is something movies have taught us, it is that to play harmonica, you have to either sit in a swamp or a prison cell. But did you know that it is actually not true? Harmonica is one of the wind instruments you can play wherever you want! You can whip the harmonica out of your pocket and spread a nice blues mood for the enjoyment of everyone around you. If you are a true multitasking master, you can even buy a holder. Then you have your hands free to play another instrument or to push the many groupies aside. Only imagination sets the limit!
Melodica
Is it a piano? Is it a wind instrument? Should it be played vertically or horizontally? Yes!
Melodica is a compact instrument which is easy to take with you and which has a unique sound, no matter which genre you wish to master. Apart from that, there is a good chance that there is not many in your friend group who are experts in specifically this instrument, and so there is space for you in the local garage band.