1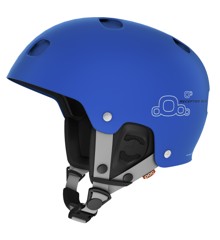 Product has been ordered from our manufacturer but we have not yet received an estimated arrival date.
You reached the end of the list
Go to top
Use a helmet – everything else is idiotic
Using a bicycle helmet is common sense, no matter what the law says about it. A bicycle helmet might not be the prettiest headgear you have at home, but it is the best for the purpose. A bicycle helmet is designed to protect the most precious thing you have – your head. Even though all of us are of course the world's best cyclists and cannot make mistakes, we unfortunately do not always have control of our surroundings. You might have a 100% control of your bicycle and have not fallen since your dad took off the support wheels 30 years ago. Unfortunately, there is no guarantee for influences of the wind, weather and other drivers in traffic. Wearing a bicycle helmet unfortunately does not exclude risks such as these but it diminishes all potential damages significantly.
In Denmark, you are not allowed to sell bicycle helmets unless they fulfil the European standard and at Coolshop, we of course fulfil those. But the correct bicycle helmet is much more than just safety. A helmet is your headgear, when you are travelling from A to B and it is therefore important that it does not only protect but is also comfortable. Our buyers make sure that the best customers get the best products. That is why our bicycle helmets are not only safe – they are designed so that they can fit your head perfectly.
Bicycle helmets for children
You know the importance of wearing a bicycle helmet, so it is your responsibility to forward the knowledge to your kid. Children are the most precious people we have, and even though they tend to fall when they are going around the house, it is unfortunately not enough of a reason for them not to also have a bicycle helmet. Nutcase are experts in making bicycle helmets for people of all sizes. Their children's helmets are especially amazing. They come in many different designs, so the children can choose the bicycle helmet that they think is cutest, coolest or prettiest. All children's helmets are light and with a good fit, so that it does not bother the child during the ride.
Be the good example
Even though children are more fragile than adults, there is no excuse for not wearing a bicycle helmet. You should be a good example for the younger cyclists. Having trauma from the cheap bike helmets from your childhood is unfortunately not an excuse. Modern helmets for adults, like the bike helmets for children, have become upgraded since you were a kid. Bicycle helmets are better ventilated, the fit is improved and the irritating strap you still have scratches from has become more comfortable.